The Right Answer
I struggle with certain aspects of documentary-style video creation, and for a long time, I had no idea why. 
When I put together a video from interviews and b-roll, the initial steps get progressively more difficult. Selecting sound bites from the interviews is no problem, but honing them into the final arrangement is more difficult, and adding b-roll is harder still.  
At this point in the process, I breathe a sigh of relief, because the remaining steps – mixing audio, creating graphics, and correcting color – feel progressively easier to me. 
When I saw Austin Kleon's illustration of "The Life of a Project," I couldn't believe how accurate it felt to my own process. It was good to know that I wasn't alone.​​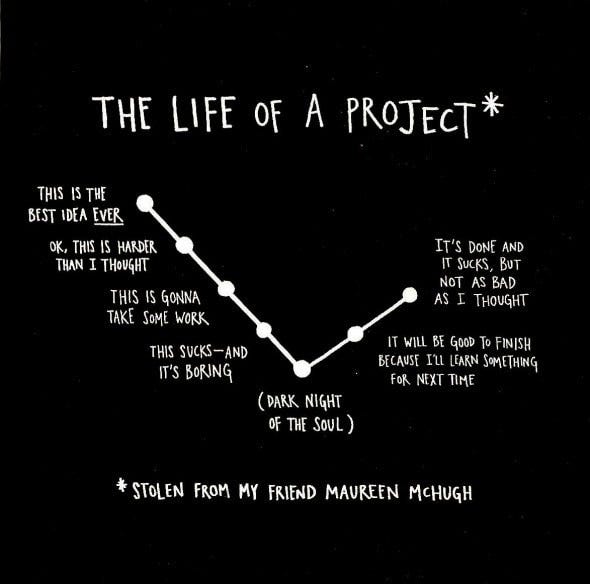 Image: Austin Kleon
Still, I puzzled over why video editing would go this way for me. Eventually, I realized that the solution comes down to the concept of the Right Answer. 
One of my high school math teachers told us that he became a teacher because he wanted to coach football. Among all the subjects he could teach, he chose math because there's a right answer and a wrong answer. He didn't like that in English class, there were style guides and guidelines, but not a defined right or wrong way to complete an assignment. At the end of the day, in math, if the answer was supposed to be 4, it was 4. There was a Right Answer.
Applying this mentality to video editing started to help me make sense of my difficulty. There are many ways to arrange sound bites and still more ways to add in b-roll. It requires a lot of artistry and creativity, and that decision-making can be strenuous. Meanwhile, I saw audio mixing and color correcting as having "right" settings and levels. It was easier for me because it was just a matter of dialing it in.
Or so I thought.
I began to realize that there are LOTS of ways I could adjust the audio or color for an image, but the vast majority of them would be the "wrong" way. I then began to question what made those other ways wrong. Was this an objective reality, or some rule I made up in my head?
It turns out, I had rules for editing that I didn't even know were there. This was true not only for the later stages, where the rules seemed to help me, but also in the earlier stages, where my rules were getting in the way of creativity. For example, I believe that there is a certain rhythm to b-roll editing that should be followed, which might be overly constricting the process. 
Takeaway
If you find yourself stuck, examine your logic for putting the film together the way that you did so far. The best way to do that is to think about what the "wrong" thing to do next would be and see if you react. If you move a clip to an unusual place in your timeline and you don't care, you may not have a rule that is standing in your way. But if you say, "Oh no, I can't do that!", ask yourself why that would be against the rules. 
​
Finding ways to break the rules has gotten me unstuck innumerable times, if only to get me out of whatever mindset got me stuck in the first place. 
​
Sometimes doing it wrong is the Right Answer.