My Interview Editing Process
You finished production, and now you have a video interview to edit. What is the best way to do that?
I don't know that there is one best way, but I will share my process for interview editing, developed over many years. 
Transcripts
I send out nearly every interview for professional transcription. In addition to typing out everything verbatim, the transcriptionist formats the document to show each new question and adds a timestamp at regular intervals (usually every 60 seconds) to make it easy to find individual soundbites within the long video clip. I upload an audio file of the interview and share it with my transcriptionist, and within a day or two, she sends a Word document back. 
There are now many speech-to-text options available that are free or low-cost, such as otter.ai or Adobe Premiere Pro's new captions tool. These automatic transcriptions can work well but are not perfectly accurate. They tend to have trouble with proper names and technical lingo, as well as being unable to format the transcript into an easily readable format. 
Either way, a transcript will give you a searchable and easily reviewable document of the entire interview, making it easy to review and share with others. In my process, I go through the entire transcript and highlight all the soundbites I think could work for the final video.
Paper Edit
Once I have a highlighted transcript, I print it out and cut out all of the highlighted pieces. I then place them on a table, roughly in the order that I think they will go in the final video. This step helps me to see what I have, what I'm missing, and how the interview will flow. It also provides a good visual check to see if I have too many sound bites for the length of video I am aiming for. Removing them at this stage means less time spent pulling sound bites into your editing software and less to sort through once you do have all the pieces.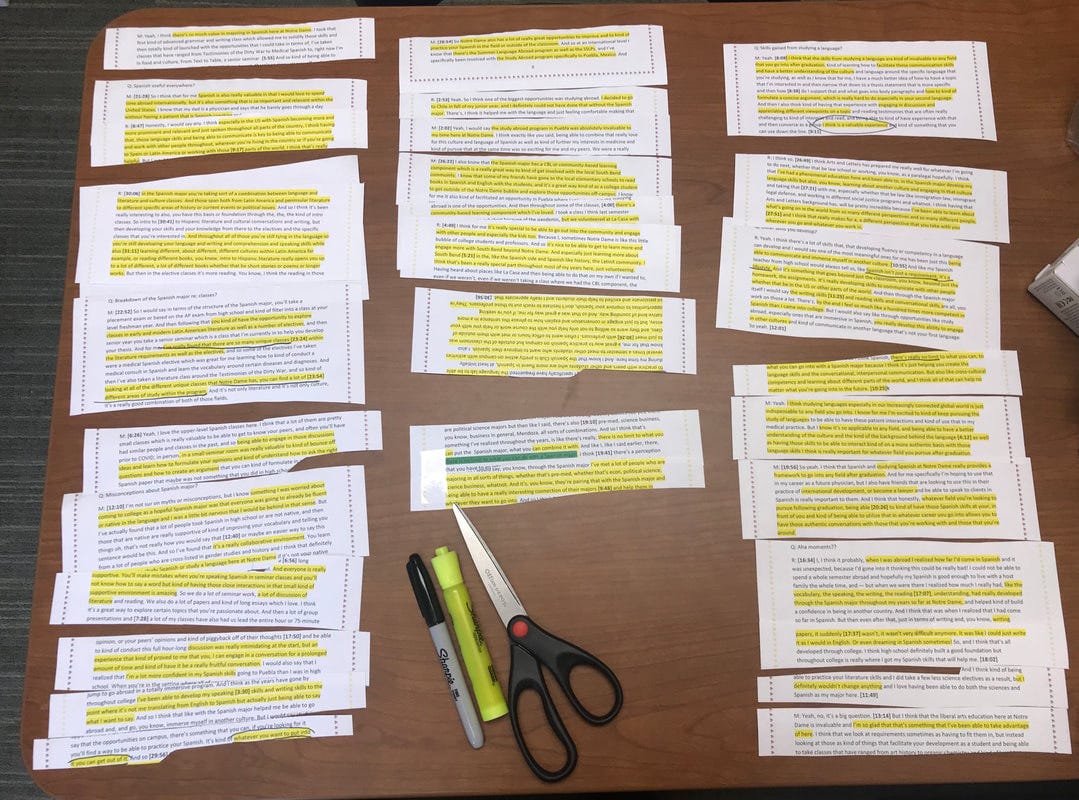 A paper edit of mine. Photo: Todd Boruff
That said, you should plan to keep this edit somewhat "loose" to keep your options open during editing. How sound bites look on paper don't always align with the original video, for better and for worse.
I recognize that this analog process might seem weird. I have tried doing this digitally, but it doesn't work nearly so well unless I can lay it out and physically move the pieces around. 
Stringout
​
Once I have the paper edit, I switch to my video editing software and find each sound bite in the video clip, in the order I laid out on the table. I called this step the stringout, which can mean a few different things depending on what type of film you are making, but for my purposes, it means laying out all of the best pieces from the interview in a timeline. Calling it a stringout reminds me that it is not intended to be the final edit;  I know I'm going to be cutting things down and probably rearranging things even more. 
It is during this process that I can hear how the interview subject actually says the sound bites I found. Inevitably for some clips, their energy will be different than how I thought it was, or they will stumble over a word, or be smiling or frowning, or any number of things that change how the bite works. You might ask, "Why go to the trouble of the earlier steps when it might turn out the clip doesn't work?" I have found in my experience that the "problems" are an exception and that this process ultimately results in efficiently creating a better video. 
Radio Edit
Once I have all of my soundbites lined up in a stringout, I make a copy of that sequence (to preserve it in case I need to come back to it later) and then I start cutting and rearranging to fit the final video. At this point, I'm working toward what I call a radio edit. I'm not worried about what the picture looks like or any other visuals, I just want it to sound right, as though it were going to play on the radio. I usually have a rough run time in mind for the final edit and work to get close to that time.
Adding B-roll
I'm now ready to add B-roll, or background footage, to supplement the interview. B-roll editing is its own broad topic, so I won't go into it here, but ultimately you should know whether or not you will be using it from the beginning of this process. If you have b-roll, you can remove pauses, stumbles, or even whole words from the interview to make it sound seamless and smooth, and then "cover" those cuts with b-roll. The viewer is none the wiser, provided your audio is well-edited. 
Is this process anything like yours? What advice do you have for interview editing? Let me know in the comments.
​